Greg's home page
Greg's diary
Brewing home page
Greg's brewing log: Brew 43, Groggy Ale

Date started:   18 December 2004
Volume:         27 litres

120 g           BiLo "draft" hopped malt extract, for starter

2.5   kg        Hoepfner Pilsener Malt
2.5   kg        Hoepfner Münchner Malt

0.264 kg        JW Caramalt 40 EBC

                Wyeast 1338 European Ale yeast, from starter
1 g             Wyeast yeast nutrient
0.55 g          K2S2O5
2 g             MgSO4
2 g             CaSO4

25 g            Pride of Ringwood 10.1% AA, 60 min
50 g            Tettnang 5.5% AA, 10 min

13:22 Add Pilsener, Münchner to 13 l at 67°. Resultant mash temp 62°
14:00 Temperature dropped to 61°. Heat to 72° (small burner).
14:13 Temperature 73°. Add Caramalt
15:00 69°. Started sparge.
15:20 Added K2S2O5, MgSO4 and CaSO4
15:31 sparge complete, 29 litres. Last runnings 1.6% Brix, pH 5.8(5)
15:42 boil
15:44 Add PoR
16:27 Slight boilover. Add cooler.
16:32 Add Tettnang, nutrient
16:42 Start cooling
17:12 Rack, aerate
17:32 Stop aeration.
17:58 Pitch at 24.0°

Actual volume:             27 litres
Initial density:           1047
Brix:                      12.1%

pH:                        5.4
Final density:             1013 (calculated)
IBUs:                      37 (calculated, ProMash)


Colour:                    18° EBC (calculated)

Date      time     freq
19 XII     9:40     0.02? just starting
          17:55     19.0°  0.12
20.  XII   9:50     19.0°  0.24
          18:15     19.0°  0.20
21.  XII   9:50     19.0°  0.15
22.  XII   9:40     19.0°  0.10
23.  XII   9:05     19.0°  0.082

1. I. 2005  Bottled with 7 g/l and 9 g/l saccharose.  Lower primed bottles marked "43-".

Before priming:
SG    1019
Brix  8.4
pH    4.5

After priming:
SG    
Brix  8.9
pH    4.5

Bottling statistics:
        Bottles         size      total
        6               0.75       4.5
       26               0.5       13.0
       22               0.375      8.25

Total                          25.75
 

Fermentation temperature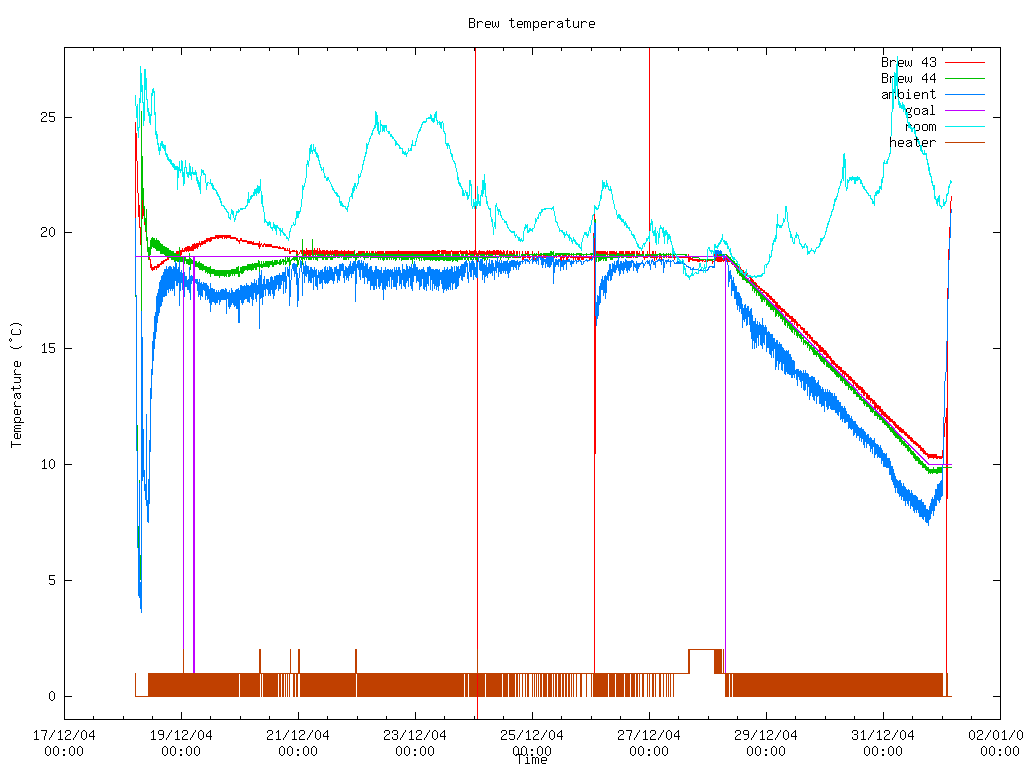 Notes
This brew started out with the number 44. Due to a mixup during bottling, changed the numbers with the old brew 43.
Surprisingly high FG. Had this beer finished fermenting? It seemed to have finished early on, and brew 44 had no problems.
Very pleasant, malty taste on bottling, considerably better than brew 44.
---
$Id: brew-43.php,v 1.6 2010/03/18 02:11:06 grog Exp $