| | | |
| --- | --- | --- |
| | | Select day in March 2017: |
I had some of the "Heinz Beanz" left over today, so I ate them alongside my own. There's really quite a difference after all: Mine aren't normally that dry, but the real issue is in the taste, of course. Now I'm happy that mine are better.
Time for another loaf of bread. Since changing our diet, we're eating less bread, so I'm baking less often. And it shows. I had a couple of starters going back to 30 October 2016, and they hadn't weathered well: Why? I hadn't had that kind of problem before, though I had kept starters for longer. But even the most recent starter (13 February 2017) seemed to have some growth on the surface:
Is that dangerous? For all I know it could be some of the organisms that make up the starter. I decided to use it, but removed the surface first. And by evening it had risen nicely and smelt good, so I'm not overly concerned.
It's the end of March, but the daytime temperatures were both in the early 30s. Until nearly midday today, anyway. In the half hour from 11:41 the temperature dropped from 30.1° to 26.0°, and in the 15 minutes after that it dropped from 26° to 21°, an average of 0.4° per minute. In the 4½ minutes from 12:15:28 it was 2.9°, or 0.64° per minute. And by 15:03 the temperature was down to 13.9°, a drop of 16.2° in a little over 3 hours, and the difference between hot and cool: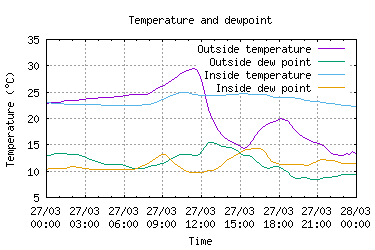 mysql> select time, outside_temp from observations where date = "2017-03-27";
+----------+--------------+
| time | outside_temp |
+----------+--------------+
| 11:41:36 | 30.1 |

| 12:15:28 | 26 |
| 12:16:29 | 25.3 |
| 12:18:06 | 24.4 |
| 12:19:07 | 23.9 |
| 12:20:09 | 23.1 |

| 12:30:40 | 21 |

| 15:03:01 | 13.9 |

Some years ago I bought a body cap lens for Yvonne's Olympus E-PM2. It had a few advantages: it had its own "lens cap", it didn't require focusing, it was small and it was cheap. But the image quality was, not surprisingly, less than spectacular.
Leica also produced something similar decades ago: a Summaron 28 mm f/5.6, also designed to be small rather then high performance. The focal length is pretty much equivalent, and it has one stop more light. I read a review that called it an "incredibly slim pancake". The images showed that it has considerable vignetting. It's difficult to compare image quality, but this is an old lens designed for small size rather than high quality.
So how does it compare with the body cap lens? One stop more aperture, a real diaphragm (stopping down to f/22), but no built-in lens cap and much bigger. For the purpose it's not really as good, and I can't see any other reason for a lens of this kind. But dpreview and Steve Huff were both ecstatic. DPreview even put the vignetting as an advantage. I don't understand why.
So far, of course, I haven't mentioned the biggest disadvantage: the price, currently USD $2,500, roughly 70 times the price of the body cap lens. In the past I have wondered whether the 50 mm f/1.4 Summilux for the M series is really so the 8 times better than my 25/1.4 that the price differential would indicate. In that case, though, the 50 m lens really does have features that the 25 mm one doesn't. In the case of the Summmaron, about the only justification for the price appears to be the name of the manufacturer. I wonder how many they will sell.
Good news on the Unix Heritage Society mailing list today: the later editions of Research Unix (8th, 9th and 10th editions) are now available under relatively liberal conditions:
Statement Regarding Research Unix Editions 8, 9, and 10

Alcatel-Lucent USA Inc. ("ALU-USA"), on behalf of itself and Nokia Bell Laboratories agrees, to the extent of its ability to do so, that it will not assert its copyright rights with respect to any non-commercial copying, distribution, performance, display or creation of derivative works of Research Unix® Editions 8, 9, and 10. The foregoing does not (i) transfer ownership of, or relinquish any, intellectual property rights (including patent rights) of Nokia Corporation, ALU-USA or any of their affiliates, (ii) grant a license to any patent, patent application, or trademark of Nokia Corporation, ALU-USA. or any of their affiliates, (iii) g rant any third -party rights or licenses, or (iv) grant any rights for commercial purposes. Neither ALU-USA. nor Nokia Bell Laboratories will furnish or provided support for Research Unix Editions 8, 9, and 10, and make no warranties or representations here under, including but not limited to any warranty or representation that Research Unix Editions 8, 9, and 10 does not infringe any third party intellectual property rights or that Research Unix Editions 8, 9, and 10 is fit for any particular purpose.
Much discussion, of course, and also the first output from a running system:
login: root
Welcome to Eighth Edition Unix. You may be sure that it
is suitably protected by ironclad licences, contractual agreements,
living wills, and trade secret laws of every sort. A trolley car is
certain to grow in your stomach if you violate the conditions
under which you got this tape. Consult your lawyer in case of any doubt.
If doubt persists, consult our lawyers.

Please commit this message to memory. If this is a hardcopy terminal,
tear off the paper and affix it to your machine. Otherwise
take a photo of your screen. Then delete /etc/motd.

Thank you for choosing Eighth Edition Unix. Have a nice day.

A month ago I discovered that the rain gauge in my new weather station wasn't working. OK, contact the vendor seller and get him to send a replacement.
That happened, but there were some details that I didn't like. Left the replacement, right the original:
The "new" gauge is clearly an older model (note the missing spirit level in the top), and it's second hand: the difference in colour is due to sunlight, and the dirt in the bucket mechanism speaks for itself. What do I do? I can complain and get him to send me a new one, but maybe a partial refund will be more appropriate.
Does it work? After installation, operated the bucket mechanism manually, four times. That should have registered 1.2 mm, but my weather pages showed no rainfall. Looking at the database was interesting, though:
mysql> select time, outside_temp, rain from observations where date = "2017-03-28";
+----------+--------------+------+
| time | outside_temp | rain |
+----------+--------------+------+
...
| 16:13:28 | 24.2 | 0 |
| 16:14:29 | 24.4 | 1.2 |
| 16:15:31 | 24.5 | -1.2 |
| 16:16:32 | 24.4 | 0 |

Where did that -1.2 mm come from? How can the thing count backwards? Tried again, and it seemed to work. Now to wait for some rain.
---
| | | |
| --- | --- | --- |
| This page contains (roughly) yesterday's and today's entries. I have a horror of reverse chronological documents, so all my diary entries are chronological. This page normally contains the last two days, but if I fall behind it may contain more. You can find older entries in the archive. Note that I often update a diary entry a day or two after I write it. | | Do you have a comment about something I have written? This is a diary, not a "blog", and there is deliberately no provision for directly adding comments. But I welcome feedback and try to reply to all messages I receive. See the diary overview for more details. If you do send me a message relating to something I have written, please indicate whether you'd prefer me not to mention your name. Otherwise I'll assume that it's OK to do so. |
---